http://www.bbc.co.uk/news/uk-politics-36778135
_________________
Success is not final, failure is not fatal: it is the courage to continue that counts
Winston Churchill 

Bampots




Posts

: 2178


Join date

: 2014-09-07


Age

: 55




costello




Posts

: 2397


Join date

: 2014-08-31



I don't agree with a lot of what Jeremy wishes to come to pass....but faced with the twisted career politicians who have tried to oust him I will back him to the hilt! I read Cristobels blog yesterday and agree with her about Corbyns performance on Andrew Marr. It was masterful and can be viewed on BBC I player or YouTube.....

https://youtu.be/f5Z2LAMALJE
_________________
Success is not final, failure is not fatal: it is the courage to continue that counts
Winston Churchill 

Bampots




Posts

: 2178


Join date

: 2014-09-07


Age

: 55



Bampots wrote:http://www.bbc.co.uk/news/uk-politics-36778135

_________________

Sometimes you will never know the true value of a moment until it becomes a memory.......... Dr Seuss

candyfloss

Admin




Posts

: 10331


Join date

: 2014-08-18


Age

: 64



Agree with what you say Bampots.




 Richard Burgon MP
✔  ‎@RichardBurgon  

The anti-democratic attempt to deny Labour Party members their rightful and fair say has failed.







Labour 'could reach one million members'






BBC News Channel

Posted at
20:25




Labour councillor and Corbyn backer Sam Tarry says it would have been "absolutely calamitous" if the vote had gone against Jeremy Corbyn. He thinks Labour could amass one million members to take part in the leadership contest.







Corbyn - we'll be campaigning 'on the things that matter'

Posted at
20:22






Jeremy Corbyn
BBC
Jeremy Corbyn has just said he is "delighted" at the NEC's decision allowing him onto the leadership ballot.

"We will campaigning on all the things that matter" he says, citing the "privatisation" of the NHS and "real hope and opportunity" for young people.

He tells MPs that the party has to "come together" whatever the outcome.








John McDonnell MP
✔  ‎@johnmcdonnellMP  

Jeremy on the ballot. Democracy prevails. We will use leadership election to sign up even more members & prepare ground for General Election
_________________

Sometimes you will never know the true value of a moment until it becomes a memory.......... Dr Seuss

candyfloss

Admin




Posts

: 10331


Join date

: 2014-08-18


Age

: 64




Laura Kuenssberg
✔ ‎@bbclaurak

So Corbyn has done it again - taken on the Labour Party establishment and won, but what happens next?

7:55 PM - 12 Jul 2016
_________________

Sometimes you will never know the true value of a moment until it becomes a memory.......... Dr Seuss

candyfloss

Admin




Posts

: 10331


Join date

: 2014-08-18


Age

: 64



This is a bit naughty though, it seems you cannot vote in the leadership contest if you joined after February!!  They have also upped the fee from £3 to £25 it seems.  Total wrong imo and people already complaining as it says this when you join...
Only pre-February Labour members get a vote
Posted at
21:03
Only people who joined Labour before February will be able to vote in the leadership contest, BBC chief political correspondent Vicki Young says. It looks like anyone who joined after then will have to pay an extra £25 to become a "registered supporter" - and will get a two-day window in which to sign up.
From Labour website..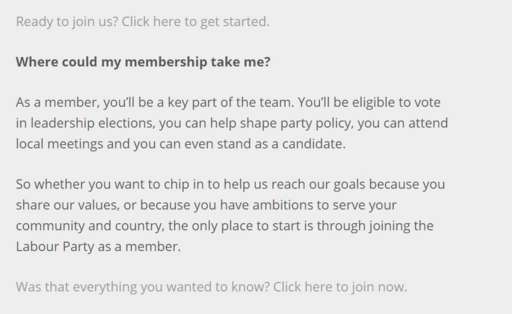 _________________

Sometimes you will never know the true value of a moment until it becomes a memory.......... Dr Seuss

candyfloss

Admin




Posts

: 10331


Join date

: 2014-08-18


Age

: 64



Is this fair - is this right and can they do it.  People have joined to support labour and yet are now not allowed to vote WTF!!!



Labour says January, not February, is the freeze date

Posted at 21:30

Labour has just put out an amended press release, with a cut-off date of 12 January - the party previously said it would be February (see below). 
Its general secretary Iain McNicol recently said 129,726 people had joined since the EU Referendum - these people will not be able to vote (unless they pay an extra £25).
_________________

Sometimes you will never know the true value of a moment until it becomes a memory.......... Dr Seuss

candyfloss

Admin




Posts

: 10331


Join date

: 2014-08-18


Age

: 64



They are trying everything to stop Jeremy Corbyn get elected...





TinaTeapot ‏@TinaTeapot27 · 54s54 seconds ago  West Bromwich, England

Retrospectively changing the rules on whether recent members can vote is fraudulent #LabourNEC @IainMcNicol





John-Paul Buck ‏@JohnBuckjp · 5m5 minutes ago

Outrageous that newly joined members can't vote in the leadership election. Where's the democracy and fairness ? #LabourNEC #Labour




_________________

Sometimes you will never know the true value of a moment until it becomes a memory.......... Dr Seuss

candyfloss

Admin




Posts

: 10331


Join date

: 2014-08-18


Age

: 64





Robert Peston

21 mins ·
Facebook Mentions
· ..

Even by Labour's recent history of giving shambles a good name, today's meeting of the ruling NEC takes the biscuit.

Because at the end of the meeting, after a couple of pro-Corbyn members had left, and Corbyn himself had gone, a vote was taken on a motion not on the agenda, to exclude from the leadership vote anyone who joined the party in the past six months - including the 130,000 who signed up since Brexit.

Now whatever you think of Corbyn, this looks and smells like gerrymandering by his opponents.
The new members will definitely be revolting.










173 Likes85 Comments336 Shares
_________________

Sometimes you will never know the true value of a moment until it becomes a memory.......... Dr Seuss

candyfloss

Admin




Posts

: 10331


Join date

: 2014-08-18


Age

: 64



---
Permissions in this forum:
You
cannot
reply to topics in this forum