Page 17 of 17 •

1 ... 10 ... 15, 16, 17

Who will win the General Election ?-
Just changed the quote from TB to italics chirpy, so that didn't get mixed up as your words.

_________________

Sometimes you will never know the true value of a moment until it becomes a memory.......... Dr Seuss

candyfloss

Admin




Posts

: 11753


Join date

: 2014-08-18


Age

: 65



chirpyinsect wrote:

Dee Coy wrote:I think it's not so much her as her alliance with the DUP. They are the mirror-image of his views. Creationists, anti-Catholic, sexual morals of the Victorians - anti-gay, anti-abortion - and deniers of climate change. If a party were ever taylor made for a person...

And you really have to laugh at this quote from TB in reply to Jeanmonroe's post.

That's all that Eswin Poots wants to achieve. Surely on this forum we are all against indoctrination - and want our children to be told about alternative views, and the evidence for each theory?Otherwise we are in danger of moving towards totalitarianism.
Jean Monroe has come into her own, and I can actually understand her more recent posts on this. She's a tough lady, I'm getting the popcorn in.
_________________
Philip Larkin wrote:It stands plain as a wardrobe, what we know, Have always known, know that we can't escape, Yet can't accept.

Dee Coy




Posts

: 2289


Join date

: 2014-08-29



The ex Chancellor George Osborne said this about TM today.  Talking about turning on your own, mind you she did sack him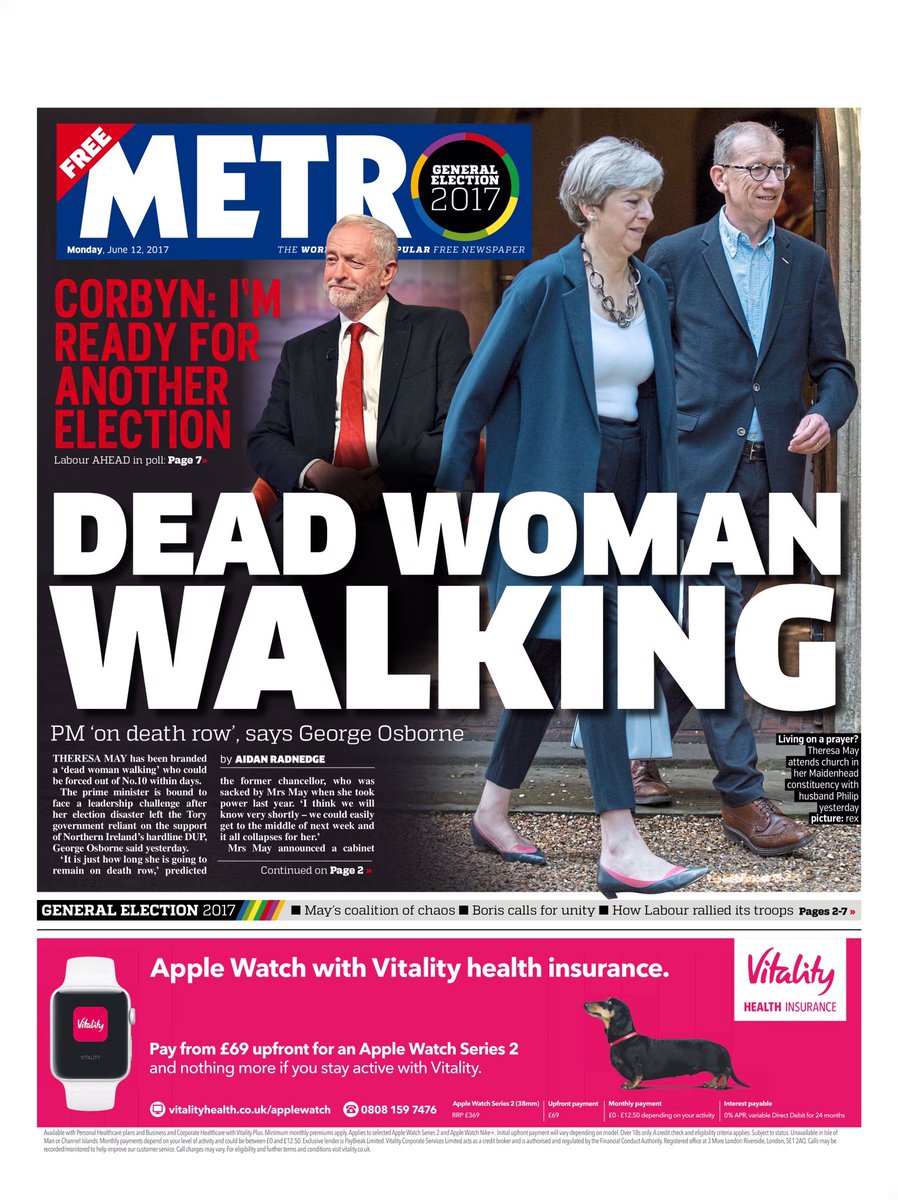 _________________

Sometimes you will never know the true value of a moment until it becomes a memory.......... Dr Seuss

candyfloss

Admin




Posts

: 11753


Join date

: 2014-08-18


Age

: 65



I read this today on FB.

You just COULDN'T make this up:
1. Parliament announces a deal with the DUP. Hours later the DUP refute that: discussions were on going. Parliament then announce that they got it wrong. OMG and these people are hoping to negotiate Brexit?????
2. The DUP wrote a letter to May stating that they will NOT support a hard Brexit. (They are the ones facing a land boarder with Europe). They want open migration.
3. Thanks to a law the Tories introduced in 2015, Neither the 10 DUP MP's or the 13 Tory MP's in Scotland are allowed to vote on issues pertaining to most of the Tory manifesto: They are not allowed to vote on the NHS or other issues that are business for England. So Brexit is the virtually the only thing that the DUP can support the Tories on - and they just don't agree on that.
4. 60% of Tory members don't want to work with the DUP - this is a vote looser for them! And NOW the DUP supporters and voters have overwhelmingly said that they don't want to work with the Tories. And now rather than the Tories refusing to work with the DUP - the DUP are likely to turn down a deal with the Tories - because THEY don't want THAT stain on THEIR record. ffs :-D :-D :-D This offer and expected rejection will be on the Tory reputation for ever.
You just couldn't make this shit up :-D...............................thank you Bob Campbell for this post.

_________________
Everything I write is my own opinion. Nothing stated as fact.

chirpyinsect




Posts

: 4729


Join date

: 2014-10-18



I am so relieved now that I decided not to the vote in the Election.

costello




Posts

: 2410


Join date

: 2014-08-31



http://www.dailymail.co.uk/news/article-4595898/The-Queen-s-Speech-DELAYED.html
Queen's Speech is DELAYED as May tears up her manifesto to strike a deal with Ian Paisley's DUP that will ditch new grammar and cuts for pensioners but KEEP the target to cut immigration
Plans to scrap triple lock on pensions and repeal on foxhunting ban to be ditched
PM's dream of creating a new set of grammar schools is also set to be shelved
Instead Queen's Speech will focus mainly on narrow agenda of Brexit and terror
But the speech itself is set to be delayed from the planned date of June 19

Andrew




Posts

: 13085


Join date

: 2014-08-29



Surely this is what we all want ?   Could it be achievable ?   It must be worth trying for.  
Never been a committed Labour sympathiser, always voted for the party I believed would be best for the people, and that has varied between the 3 main parties at elections.   I have also been a 'tactical voter' when I felt it may necessarily help change the status quo.
JC seems to be inspiring voters, somehow reaching out to people  - he does also appear to have basic morals and principles that he lives by and is willing to fight for.  Or have I simply got caught up in a hope for a better world by JC  ?
http://www.bbc.co.uk/news/entertainment-arts-40394095
Jeremy Corbyn said he had been inspired by how many young people had got involved in politics as he addressed the crowd at the Glastonbury festival.

"Do you know, politics is actually about everyday life?" he asked the Pyramid Stage audience who had, moments earlier, been dancing to Craig David.

The Labour leader called for "a world of human rights, peace, justice and democracy all over the planet".
_________________
The pure and simple truth is rarely pure, and never simple.        Oscar Wilde

bluebell




Posts

: 1677


Join date

: 2014-09-01


Age

: 100


Location

: S/W UK



Page 17 of 17 •

1 ... 10 ... 15, 16, 17

---
Permissions in this forum:
You
cannot
reply to topics in this forum