Madeleine McCann webpage under fire over free speech and charity status claims
By Mark Saunokonoko
11:13am Aug 28, 2017
The official
Find Madeleine McCann
Facebook page has been criticised over controversial rules that appear to shut down the right to free speech.
Members of the public have also accused the McCann Facebook page of misleadingly proclaiming it is an official charity, instead of being correctly categorised as a limited liability company.
British girl Madeleine is still missing after mysteriously vanishing from her family's holiday apartment in Portugal more than ten years ago, in May 2007.
Those people who ask questions or "analyse the investigation" on the
Find Madeleine
Facebook page, operated by a family friend, will be banned, according to a post titled 'Rules of the Road'.
Facebook users will also be immediately ejected from the group if they attempt to debate parenting decisions about when it is appropriate to use babysitting services.
"Please don't post your opinion on leaving children alone. Doing so will result in you being banned. No questions asked," the post states in large red font.
"This is our page and we ultimately have the say on the content and tone ... anyone criticising Madeleine or her family in any way, will be banned."
Doctors Kate and Gerry McCann claimed somebody entered their two-bedroom unit while they were eating tapas with friends at a nearby resort restaurant and abducted Madeleine while she slept next to her younger brother and sister.
The lead detective on arguably the world's highest profile missing persons' case later wrote a book theorising Maddie died in an accident and her parents faked an abduction and disposed of her body.
Parents Kate and Gerry have always steadfastly denied any wrongdoing in the disappearance of their daughter, and Portugal's detectives shelved the case in 2008.
In a huge outpouring of sympathy and support following the alleged abduction, it was estimated almost $6.5m was donated to the official Find Madeleine Fund.
However, despite best practice, the fund was never set up as a registered charity and is in fact a limited liability company.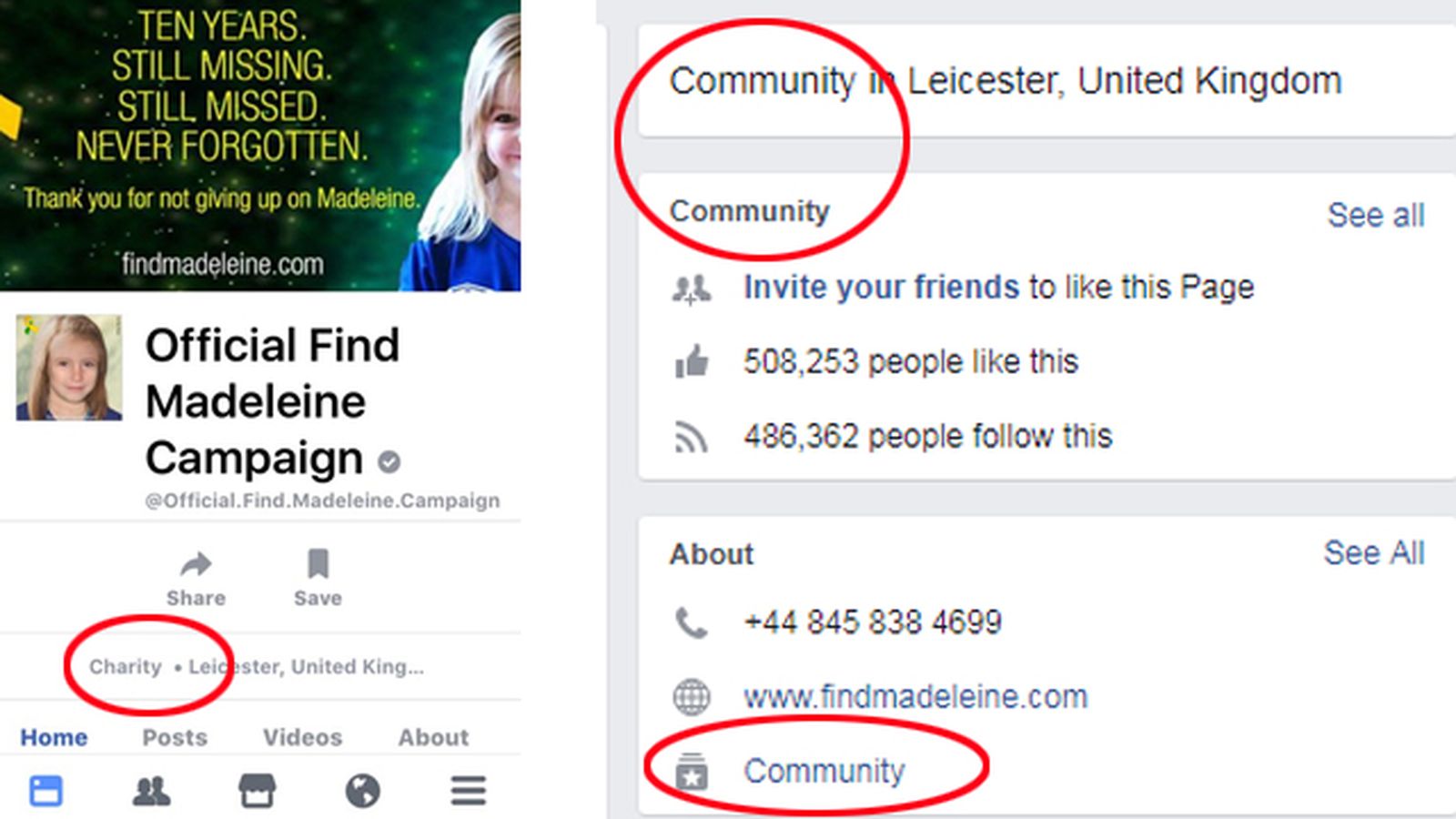 Last week, after sustained pressure, the
Find Madeleine
Facebook page quietly changed its official status from a "charity" to "community".
A key difference between a charity and limited liability company is the level of detail it is required by law to publically divulge each year.
Since its inception in 2007, the official fund,
Leave No Stone Unturned Ltd
, has only ever published the bare minimum of detail over how it has spent the millions of dollars donated by the public.
The
Find Madeleine
website claims because the organisation is currently focused on searching for one child only, Madeleine McCann, it cannot register as a charity.
Last week it was reported Operation Grange, led by London Metropolitan detectives, will next month request further funding from the UK government to continue the search for Madeleine.
Funding is due to expire in September, after almost $18m has so far been spent on an investigation that has to date yielded nothing.
In May,
nine.com.au
reported Scotland Yard's six-year investigation into Madeleine's disappearance was a poisoned chalice laced with critical errors because of a high level agenda to not interrogate the child's parents.
US criminal profiler Pat Brown has also been heavily critical of Operation Grange.
"What Scotland Yard was doing was not a proper investigation," Brown earlier told
nine.com.au
.
"Scotland Yard went in saying the McCanns are not suspects, and that [the disappearance of Maddie] is an abduction. There is absolutely no way you should have entered an investigation saying that.
"They spent a tremendous amount of time following the most ridiculous leads ever. It was like watching a massive charade."
http://www.9news.com.au/world/2017/08/28/11/13/madeleine-mccann-webpage-under-fire-over-free-speech-and-charity-status-claims
_________________

Sometimes you will never know the true value of a moment until it becomes a memory.......... Dr Seuss

candyfloss

Admin




Posts

: 10508


Join date

: 2014-08-18


Age

: 65



Mainstream media in Australia. Excellent! I wonder if the UK MSM will have the courage to reprint this!

canada12




Posts

: 1058


Join date

: 2014-08-28



I've just seen this bit at the end.

"Nine News podcast exploring Madeleine McCann case by Mark Saunokonoko coming soon".

That sounds promising.

Freedom

Moderator





Posts

: 13963


Join date

: 2014-08-17


Age

: 102


Location

: The nearest darkened room



Let's not get our hopes up just yet! How many times have things looked promising before? Mark Saunokonoko may not have had the McCann spell placed on him yet....

TheTruthWillOut




Posts

: 1352


Join date

: 2014-09-02



No, I certainly won't be counting my chickens yet!

Presumably though, if a programme appeared outside the U K, the McCanns would have difficulty in taking action about it, thinking of Pat Brown's failed attempts to sue Channel 7 in Australia for the hatchet job that was done on her.

Freedom

Moderator





Posts

: 13963


Join date

: 2014-08-17


Age

: 102


Location

: The nearest darkened room



Well I don't believe the M's have had the funds to sue anyone else after GA for a long time but don't understand why the rest of the world or at least the big English speaking ones haven't had their investigative journos on the case. A group in America (the most sue happy place on earth) did the JonBenet Ramsey on prime time TV and that family are pretty damn rich and have high up backing.

So what entity/Government has scared off even these overseas journos on this pretty big story that could make them run a mile? I highly doubt it the McCanns themselves they are scared of....

TheTruthWillOut




Posts

: 1352


Join date

: 2014-09-02



The US may be litigation happy but they have a constitution that promises free speech. We have neither a constitution nor the right to free speech.

What we do have is a set of solicitors who have made a fortune by persuading some High Court judges that free speech is a bad thing, it makes you wonder why some judges are so afraid of free speech, and whether they, too, have ever needed the services of such a solicitor.



mumof6




Posts

: 570


Join date

: 2017-03-26



---
Permissions in this forum:
You
cannot
reply to topics in this forum