Bell Pottinger expelled from PR trade body after South Africa racism row
The Guardian · 57 minutes ago


Bell Pottinger expelled from PR trade body after South Africa racism row

PRCA bans agency from membership for five years after finding it was unethical and brought the industry into disrepute


https://www.theguardian.com/business/2017/sep/04/bell-pottinger-expelled-from-pr-trade-body-after-south-africa-racism-row
_________________

Sometimes you will never know the true value of a moment until it becomes a memory.......... Dr Seuss

candyfloss

Admin




Posts

: 10508


Join date

: 2014-08-18


Age

: 65



Oh deary me- this Bell Pottinger paid £500,000 to keep McCann's on front pages?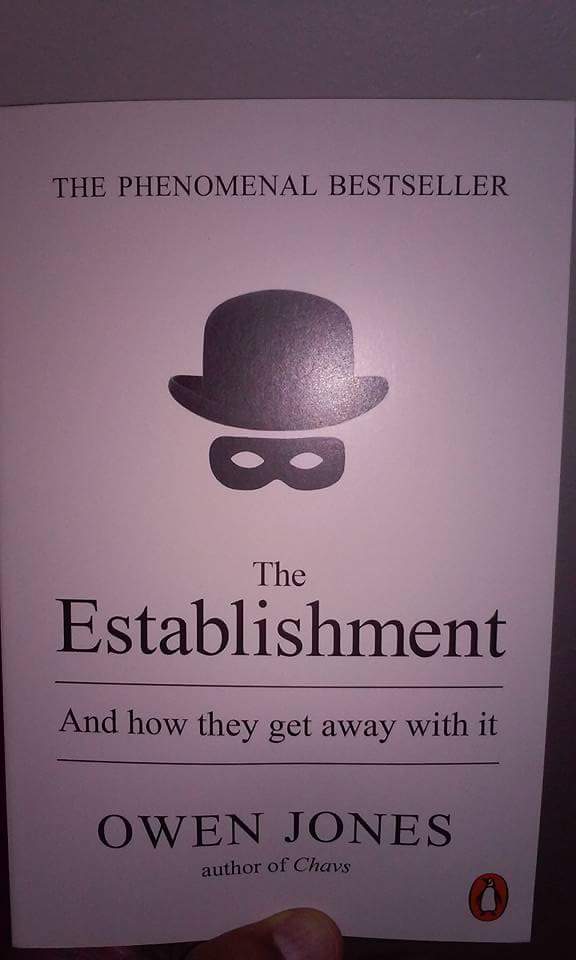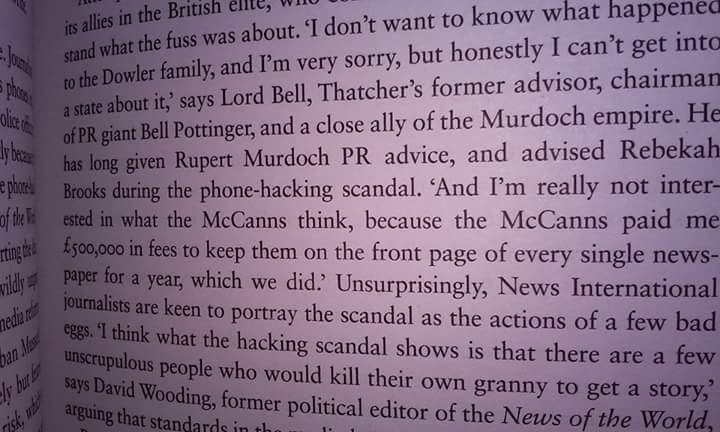 [/quote]
_________________

Sometimes you will never know the true value of a moment until it becomes a memory.......... Dr Seuss

candyfloss

Admin




Posts

: 10508


Join date

: 2014-08-18


Age

: 65



Bell Pottinger is a textbook example of how not to manage a crisis
Nils Pratley
The City PR firm is in the reputation-enhancing game – but appears unable to protect its own name
Monday 4 September 2017 19.57 BST
Bell Pottinger, in its handling of its own public relations disaster in South Africa, has provided a textbook example of how not to manage a crisis.
At first the City PR outfit denied it had done anything wrong in its work for the Gupta family. When the facts suggested otherwise, and that Bell Pottinger had been running a poisonous campaign based on stoking racial division, the company fired a mid-ranking partner. When an "unequivocal and absolute" apology arrived, its force was undermined as departed founder Lord Bell and chief executive James Henderson squabbled over who was to blame.
When Henderson finally resigned at the weekend, any sense of honour evaporated when it became clear that his position was about to become impossible. As we now know, the review by law firm Herbert Smith Freehills was damning and the trade body, the Public Relations and Communications Association, concluded that Bell Pottinger's behaviour was so bad that expulsion was the only suitable penalty.                    
This is now, obviously, a corporate crisis for Bell Pottinger. It is in the reputation-enhancing game and, if can't even protect its own name, its services don't look so valuable. It is also astonishing that the senior management, including Henderson, the biggest shareholder, appear to have been asleep to the risks in a contract that, at more than £1m a year, will have been one of the biggest on the books.
It is also a crisis for the wider City PR industry, a club in constant pursuit of respectability. Its top folk these days like to think of themselves of professionals with ethical codes of conduct, rather than chancers who will do or say anything if the money is right. Bell Pottinger's dirty campaign in South Africa represents a serious threat to that self-image.
The PRCA has therefore done the right thing in expelling Bell Pottinger. If the outfit had been allowed to remain in the trade body, all those fine words about professional standards would have been seen as worthless. The sanction makes Bell Pottinger's business prospects substantially bleaker but that, presumably, is the point. Sometimes ugly spin has to be seen to catch up with the spinner.
https://www.theguardian.com/business/nils-pratley-on-finance/2017/sep/04/sports-direct-chairman-keith-hellawell-ashley
_________________

Sometimes you will never know the true value of a moment until it becomes a memory.......... Dr Seuss

candyfloss

Admin




Posts

: 10508


Join date

: 2014-08-18


Age

: 65



Here's the BBC take on it..
Bell Pottinger expelled from trade body for South African campaign
By Chris Johnston Business reporter
Bell Pottinger has been expelled from the UK public relations trade body for its work on a controversial contract in South Africa.
It is the first time that the Public Relations and Communications Association (PRCA) has ejected a PR firm as prominent as Bell Pottinger.
PRCA director-general Francis Ingham said it was "highly questionable" whether the firm would survive.
Bell Pottinger said it "accepts that there are lessons need to be learned".
The PR firm's work on a campaign for Oakbay Capital, a South African company owned by the wealthy Gupta family, had "incited racial hatred" and was "absolutely unthinkable", Mr Ingham said.
He expected more clients to abandon Bell Pottinger following the sanction.
South Africa's opposition Democratic Alliance complained to the PRCA, accusing Bell Pottinger of a "hateful and divisive campaign to divide South Africa along the lines of race".
The campaign emphasised the power of white-owned businesses and used the #WhiteMonopolyCapital hashtag.
South African President Jacob Zuma has faced corruption allegations and suspicion over his ties with the Guptas. Mr Zuma and the Guptas have                
Chief executive James Henderson resigned ahead of the five-year expulsion from the PRCA. His departure was "necessary, but not sufficient", Mr Ingham said.
"Bell Pottinger has brought the PR and communications industry into disrepute with its actions, and it has received the harshest possible sanctions," he added.
The firm was found to have breached two clauses of the PRCA's professional charter and two clauses of its public affairs and lobbying code of conduct.
The law firm Herbert Smith Freehills was commissioned by Bell Pottinger to conduct an internal review following the Oakbay controversy.
Its review, released on Monday, criticised the PR firm's senior management: "Bell Pottinger senior management should have known that the campaign was at risk of causing offence, including on grounds of race.
"In such circumstances, BP ought to have exercised extreme care and should have closely scrutinised the creation of content for the campaign. This does not appear to have happened."
Learning lessons
Herbert Smith also found that certain material created by Bell Pottinger for the economic emancipation campaign "was negative or targeted towards wealthy white South African individuals or corporates and/or was potentially racially divisive and/or potentially offensive and was created in breach of relevant ethical principles".
In a statement Bell Pottinger said it "acknowledges the PRCA ruling, accepts that there are lessons to be learned but disputes the basis on which the ruling was made".
It added: "The overwhelming majority of our partners and employees played no part in the Oakbay Capital account and have not been accused of breaching the PRCA code. Many of them will now consider applying for individual membership.
"With the Herbert Smith Freehills findings made publicly available and the PRCA ruling published, the business can refocus on delivering outstanding work for our clients and looking after our people."
Bell Pottinger has already lost clients over the affair, including luxury goods company Richemont and investment firm Investec. The further reputational damage could see other clients sever their ties.
On Tuesday, Labour peer Peter Hain was due to table questions in the House of Lords asking if Bell Pottinger's actions contravened any UK trade policies.
The PR firm, founded by Lord Tim Bell, was closely associated with Margaret Thatcher and the Conservative Party in the 1980s.
Bell Pottinger has gone on to accept contracts from many controversial clients, including former South African president FW de Klerk, when he opposed Nelson Mandela; Asma al-Assad, the wife of Syrian president Bashir al-Assad; arms manufacturer BAE Systems; and the South African athlete Oscar Pistorius after he was charged with murder.
http://www.bbc.co.uk/news/business-41151361
_________________

Sometimes you will never know the true value of a moment until it becomes a memory.......... Dr Seuss

candyfloss

Admin




Posts

: 10508


Join date

: 2014-08-18


Age

: 65



Oh dear the firm is about to collapse..
Disgraced PR firm Bell Pottinger on brink of administration
Administrators could be formally appointed to the scandal-hit PR firm as soon as next week, Sky News understands.
By Mark Kleinman, City Editor
The disgraced public relations firm Bell Pottinger is on the brink of collapsing into administration, just days after controversial work for a South African client led to its expulsion from its industry association.
Sky News understands that executives at Bell Pottinger briefed staff on Thursday afternoon that the company's financial position had become parlous and that they could choose to terminate their employment immediately.
Sources said the agency - for decades a stalwart of the international PR scene - could formally appoint administrators as soon as next week.
BDO, the accountancy firm, is likely to handle the administration if a rescue buyer is not found within the next few days.
The calamitous decline of Bell Pottinger would come in the wake of
an exodus of clients
including Carillion, the construction firm, and CYBG, the banking group, as well as senior staff.
The crisis has been triggered by Bell Pottinger's work for a wealthy South African family, which involved a campaign deemed by an independent legal report to have stoked racial tensions in the country.
The Public Relations and Communications Association said this week that Bell Pottinger had breached its ethical code and expelled it for five years.
It was unclear on Thursday how long the roughly 200 employees of Bell Pottinger would continue to be paid for, but one source said that they had been informed that they would only be paid up until their departure date from the firm.
James Henderson, the former chief executive, resigned late last week, saying he was accountable for the failings in Bell Pottinger's work for the Guptas but that he had not been aware of the actions of colleagues.
Lord Bell, the co-founder of the firm and favoured PR man of Baroness Thatcher during her tenure as the Conservative Party leader, had said that the crisis meant it was "curtains" for the agency.
Insiders said that if administrators were appointed, they were likely to attempt to sell teams of PR executives and their client contracts to rival PR firms.
John Sunnucks, who quit this week as head of its financial PR unit, is said to have teamed up with Tim Collins, chairman of its political practice, to launch a new communications outfit.
Bell Pottinger declined to comment.
http://news.sky.com/story/disgraced-pr-firm-bell-pottinger-on-brink-of-administration-11024402
_________________

Sometimes you will never know the true value of a moment until it becomes a memory.......... Dr Seuss

candyfloss

Admin




Posts

: 10508


Join date

: 2014-08-18


Age

: 65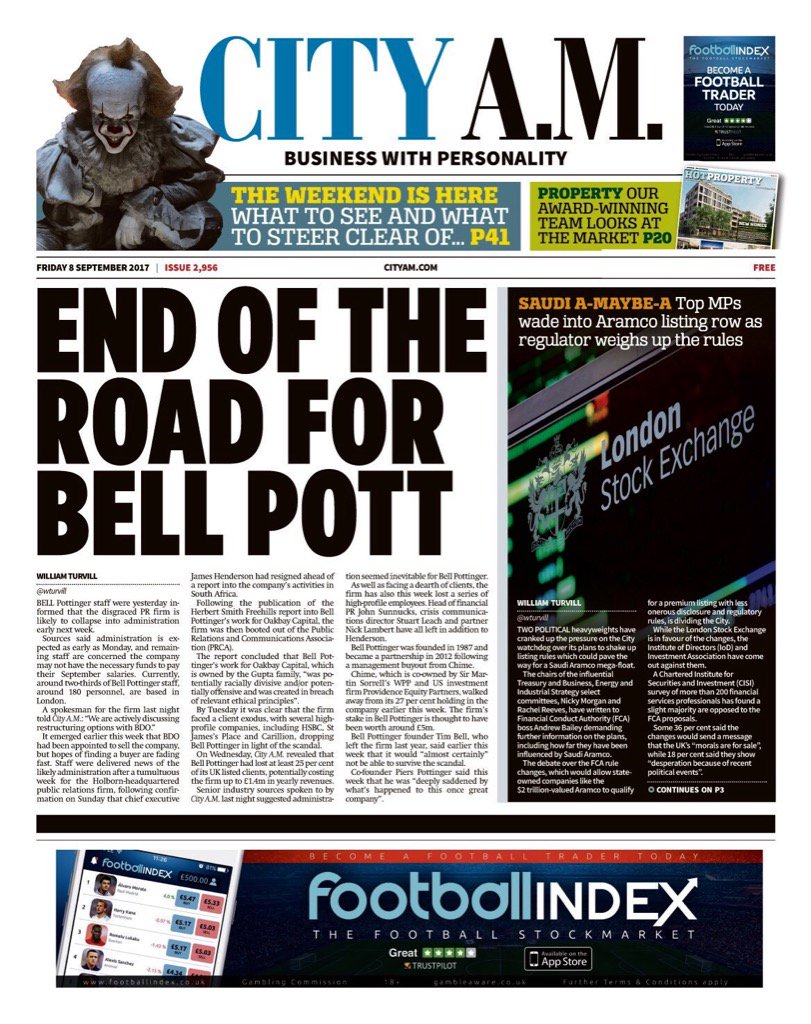 _________________

Sometimes you will never know the true value of a moment until it becomes a memory.......... Dr Seuss

candyfloss

Admin




Posts

: 10508


Join date

: 2014-08-18


Age

: 65



I used to work at Bell Pottinger – so I can tell you why good people end up doing immoral things in lobbying

I've heard firsthand from a former lobbying industry executive of repressive Middle Eastern governments personally bribing British journalists; of 'war rooms' pumping out made-up blogs and social media postings spreading fake news. Spray luminol across London's major PR houses, and you'll see similar blood spatters



"You don't just go and do terrible things straight away," says my ex-Bell Pottinger colleague over drinks in a South London wine bar. We're discussing the scandal that finally sunk the PR house after it was caught inciting racial hatred in South Africa on behalf of its clients, the Gupta family, and their investment vehicle Oakbay. Now, Bell Pottinger has collapsed into administration after being expelled from the industry regulatory body the PRCA, with hundreds losing their jobs.

"You build up to doing bad things, without even realising what you're doing is bad," they go on. "Your boss tells you to do something, so you do it."

After working in the lobbying industry for three years, I left to become a journalist in 2015. During that time I worked at a number of big-name firms, including Bell Pottinger.

I learned a lot from my experiences in the industry, and on the whole I don't regret it. I worked with smart, good people who taught me how to be hard-working and professional. I made lifelong friends. And I represented clients that I believed were doing important things – making great strides in the technology world, or lobbying the Government on behalf of those who could not, like pensioners living in fuel poverty.


Bell Pottinger's downfall has dominated headlines for months, but I'll rehearse the key details here briefly. They ran a social media campaign on behalf of Oakbay, who were paying the firm £100,000 a month. In return for this pant-droppingly huge amount, Bell Pottinger created dummy Facebook accounts that stirred up hatred against "white monopoly capital" in a nation where the memory of racial violence is as red-raw as a freshly inked tattoo. It was a venal, despicable thing to do. But having worked in the industry, I can understand how it happened.
People tend to think of corporate lobbying as an industry peopled by Renaissance-era courtiers plotting political intrigues over North London lasagne suppers or in the gaudy interiors of Saudi jets. This does happen. But most of the time, things are duller and more prosaic.



Bell Pottinger wasn't exceptional, and this probably isn't even the worst thing they did. It's important to remember that the only reason Bell Pottinger was undone was because of the work of the South African opposition party to expose them. Without that, Bell Pottinger would still be free to represent the Oscar Pistoriuses of this world. And they'd be in good company. Similarly reprehensible practices are widespread at firms across London.
I've heard firsthand from a former lobbying industry executive (at a different firm) of repressive Middle Eastern governments personally bribing British journalists to look favourably on their activities; of "war rooms" pumping out made-up blogs and social media postings spreading fake news. Spray luminol across London's major PR houses, and you'll see similar blood spatters.
It may seem astonishing to someone who's never worked in the industry that good people could work on the Oakbay account and not raise objections. (From what it's worth, my sources within the company tell me that many did, and were overruled). But it's not to me.
You're an inexperienced account executive, or a harried partner with a new business target and pressure from above. You're not a savvy geopolitical operator and barely understand South African politics. You're used to skirting close to the line and, above all, to obeying orders — the culture of deference in firms at Bell Pottinger is paramount.
Above all, you uphold the sacrosanct belief of all lobbyists: that everyone is entitled to representation, in the same way they'd be entitled to a lawyer.

When you're in the business of representing some of the worst people in the world, it's easy to lose your head. Things that are objectively very wrong – whipping up racial hatred, for instance – become professionalised and clinical. It's hard to recognise what you're doing, really, as you upload a blog post from a smart London office. You detach from your actions as cleanly as a pathologist, unflinching as you peel the skin away from the dead.

In 1971, psychology professor Philip Zimbardo ran a psychological experiment to understand the implications of perceived power. Over the course of the Stanford prison experiment, the white, middle class men designated "guards" tortured, humiliated, and stripped naked their "prisoners".

Eventually, the experiment was stopped because one woman – Christina Maslach, a graduate psychology student – questioned its morality. Out of 50 people involved, she was the only one to do so.

There are clear parallels to be made, nearly 50 years on, with Bell Pottinger's collapse. Good people did bad things because authority figures in a deference-heavy culture told them it was the right thing to do. If a lesson is to be learned, it's that we need more Christina Maslachs in the world – and we need to listen to them


http://www.independent.co.uk/voices/bell-pottinger-pr-scandal-lobbying-government-journalists-fake-news-good-people-immoral-a7952706.html
_________________

Sometimes you will never know the true value of a moment until it becomes a memory.......... Dr Seuss

candyfloss

Admin




Posts

: 10508


Join date

: 2014-08-18


Age

: 65



---
Permissions in this forum:
You
cannot
reply to topics in this forum