Page 2 of 2 •

1, 2


Freedom

Moderator





Posts

: 15715


Join date

: 2014-08-17


Age

: 103


Location

: The nearest darkened room




Freedom

Moderator





Posts

: 15715


Join date

: 2014-08-17


Age

: 103


Location

: The nearest darkened room



Freedom wrote:

http://www.liveleak.com/view?i=678_1271373132

I haven't managed to watch all this clip yet - the first few seconds are bad enough. It's from an 80s Canadian TV show. How this creepy guy was allowed on TV, I don't know.
Yuk - I could only watch a few seconds and it turned my stomach.

_________________
The constant assertion of belief is an indication of fear.
Jiddu Krishnamurti


Mimi




Posts

: 3519


Join date

: 2014-09-01



Why is it so easy to fill a report on Jimmy Savile with sex crimes galore from way back in time......yet when the alledged perpratraitor happens to be a politician we hit a voidless time machine where witnesses lie, evidence is weak and even where it could be taken to court the abuser dies and cant be prosecuted. Does this report contain proven fact or is it hearsay,as far as I'm aware Savile remains innocent having never been to court.it really stinks. Savile should be tried as should Janner.. I think the child rapist Black is to be tried despite his death. These old cases look like being manipulated and whitewashed .....that is inexcusable!
(apologies if I have got anything wrong here as I'm on phone and find these sex crimes astonishing!)
http://www.telegraph.co.uk/news/uknews/crime/jimmy-savile/12111579/Jimmy-Savile-scandal-Janet-Smith-Review-leaked-to-Exaro-claims-disgraced-star-hid-abuse-live-on-camera.html
Dame Janet Smith is reviewing the BBC's practices at the time of the Jimmy Savile scandal
Picture: Rex/Ross Parry
By Lucy Clarke-Billings
10:09AM GMT 21 Jan 2016
Draft report produced during official review of DJ's time at BBC criticises corporation for having managers who were 'above the law'
The BBC is condemned for having a "deferential culture" and "untouchable stars" in a leaked draft of a report into sexual abuse by broadcaster Jimmy Savile.
The draft report, produced during an official review of Savile's time at the BBC by retired judge Dame Janet Smith, criticises the corporation for having managers who were "above the law".
It also warns that it was possible another "predatory child abuser could be lurking undiscovered in the BBC even today".
"I know of at least two young girls [both underage] who were invited back to Savile's dressing room, where he abused them sexually,"
Witness
Rapes, indecent assaults on both boys and girls, and incidents of "inappropriate sexual conduct" with teenagers over 16 were all "in some way associated with the BBC", the draft report states. Three of Savile's victims were only nine, it adds.
Incidents occurred at "virtually every one of the BBC premises" in which Savile worked, the report said, and more than 100 employees at the corporation told the review they had heard about Savile's sexual conduct.
While staff said they were aware of his behaviour, they were scared to report it to managers, the draft report, published by news website Exaro states.
But Dame Janet accepted denials from senior bosses that they were aware of his sexual activity, according to the leaked document.
And she does not criticise the BBC for not uncovering the abuse, according to the report.
Child abuse reports have soared since the scandal of the BBC's Jimmy Savile
Jimmy Savile was revealed as a child abuser after his death  REX FEATURES
Liz Dux, a specialist abuse lawyer at Slater and Gordon, which represents 168 alleged Savile victims - many of whom where assaulted at the BBC - said: "It is deeply disturbing that this inquiry appears to have concluded the same culture which allowed Savile to commit his appalling offences with impunity still persists today.
"That little has been done at the BBC to prevent another predatory abuser using their celebrity and influence to target the young and vulnerable is of grave concern.
"I find it incredible that 107 people gave evidence to having heard rumours of his depravity and inappropriate sexual behaviour yet no one in a position of authority seemed to be aware.
"A predatory child abuser could be lurking undiscovered in the BBC even today,"
Smith Review
"Now, more than ever before, mandatory reporting legislation needs to be brought in to make it a crime to turn a blind eye to this sort of offending.
"It also has to be said that Savile's victims who gave evidence to this inquiry will find it upsetting that a report of this nature and sensitivity has been leaked in this way."
A statement on the Dame Janet's review website expressed disappointment at the leak of the draft but said it was out of date.
According to Exaro, Dame Janet says in the report: "My general impression is that most staff (other than those who had been in the higher echelons) felt that the management culture was too deferential and and that some executives were 'above the law'."
The BBC's "talent" was held in "awe" by most staff, who treated them "deferentially", she said, adding: "It would be a brave person indeed who would make a complaint against such a person."
The draft report also outlined the extent of Savile's sexual activities, which it said "took place in virtually every one of the BBC premises at which he worked."
The locations included the BBC Television Theatre, while on set for Jim'll Fix It, Television Centre in connection with Top of the Pops, and Broadcasting House, where he worked for Radio 1.
_________________
Success is not final, failure is not fatal: it is the courage to continue that counts
Winston Churchill 

Bampots




Posts

: 2282


Join date

: 2014-09-07


Age

: 56



Tomorrow's front page.............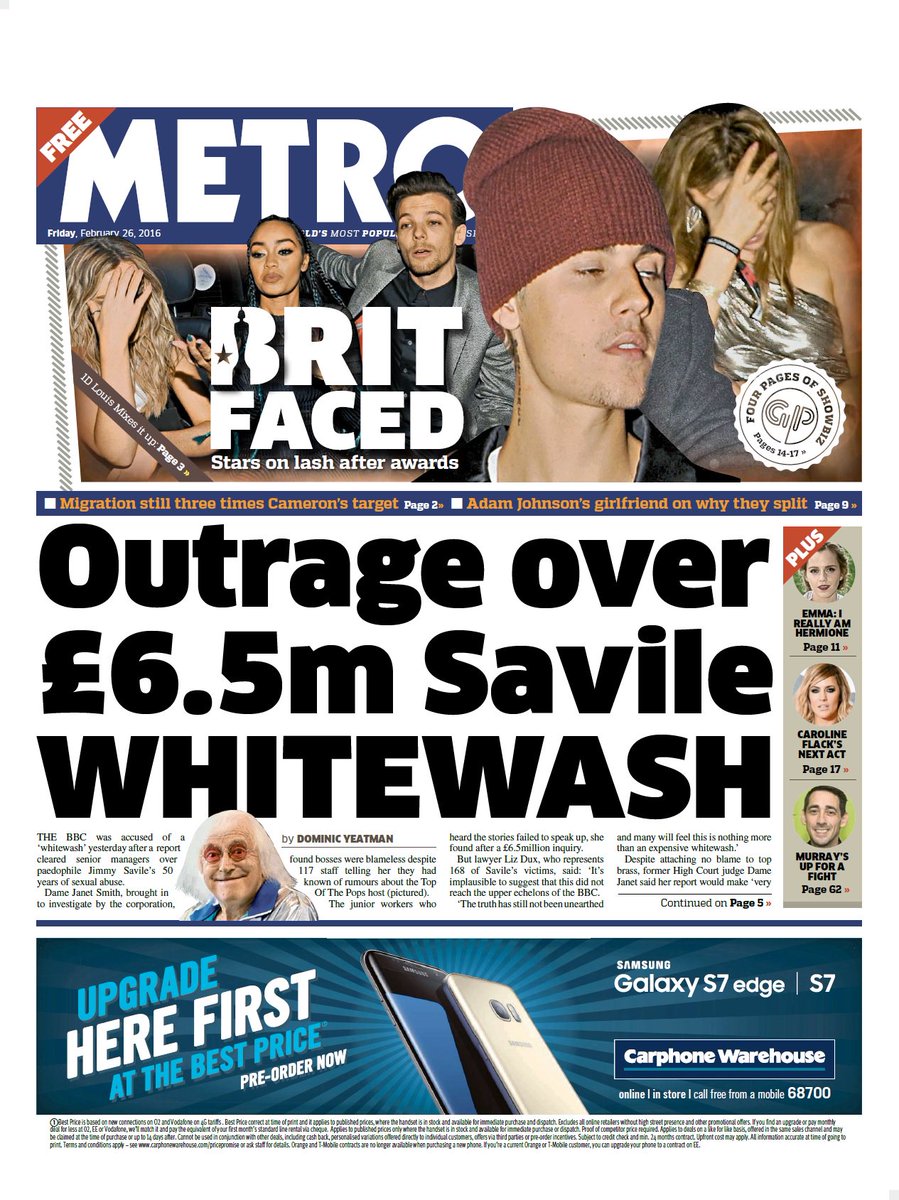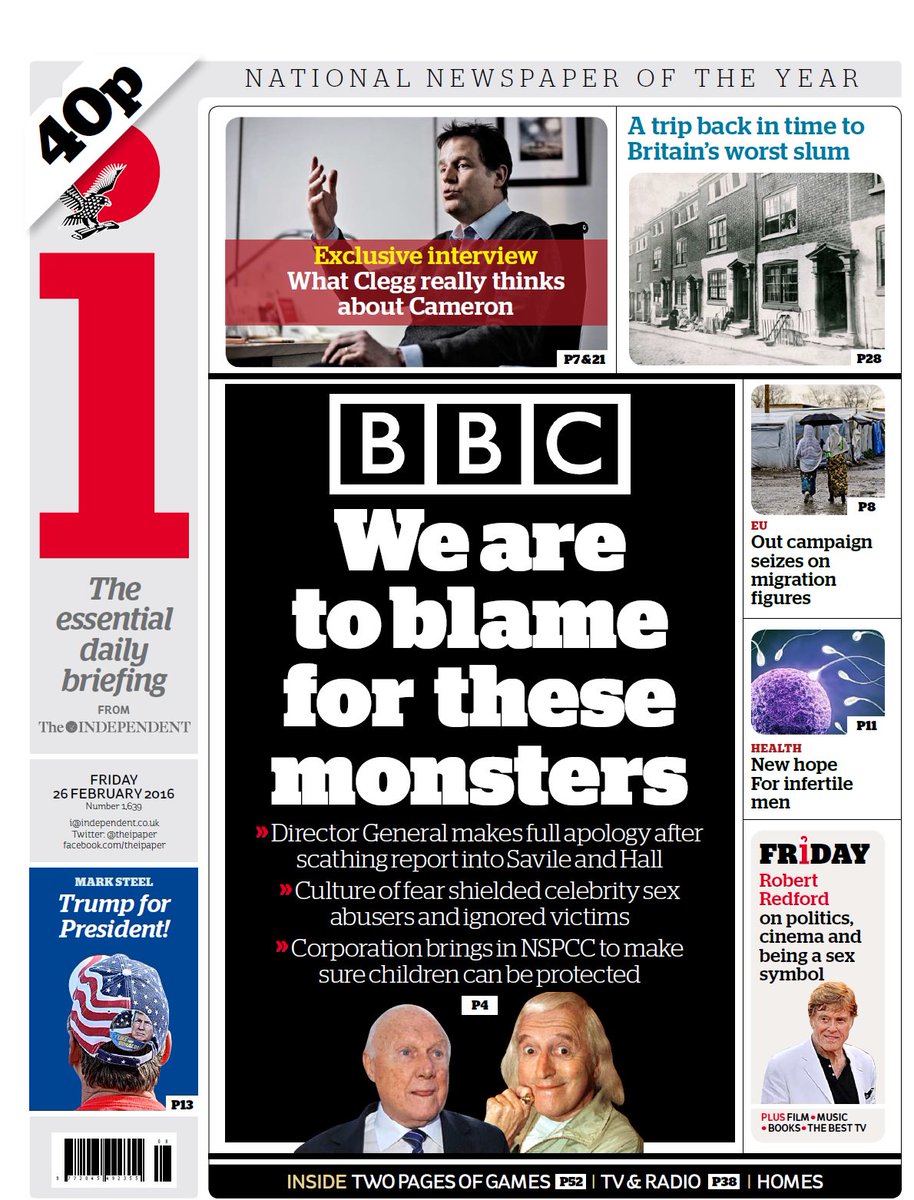 _________________

Sometimes you will never know the true value of a moment until it becomes a memory.......... Dr Seuss

candyfloss

Admin




Posts

: 11749


Join date

: 2014-08-18


Age

: 65



Well surely someone is responsible for giving Savile the Jim`ll Fix It programme. Who is the plonker who allowed this? Or is he dead by now ? I suppose he is.

Janet Smith`s report just throws up more questions, like how come JS had so much power ? It can`t have been just because he was a celebrity - no one liked him back in those days - it`s not as if he was even good looking. He must have had something on these BBC people to attain such prominence - what had he provided for them ?

They`re probably all dead now anyway, so I doubt whether the police will probe further.

_________________
The constant assertion of belief is an indication of fear.
Jiddu Krishnamurti


Mimi




Posts

: 3519


Join date

: 2014-09-01




Freedom

Moderator





Posts

: 15715


Join date

: 2014-08-17


Age

: 103


Location

: The nearest darkened room



I watched this last night i felt so sorry for the woman that lost her case i was in tears along with her.


I met this creep when i was a child and if a nurse had'nt been with me the whole time he was there i dread to think what could have happened.
When it all came out what he did i convinced my self i had a lucky escape.

kylie




Posts

: 170


Join date

: 2014-11-18


Age

: 101




Freedom

Moderator





Posts

: 15715


Join date

: 2014-08-17


Age

: 103


Location

: The nearest darkened room



Page 2 of 2 •

1, 2

---
Permissions in this forum:
You
cannot
reply to topics in this forum