Page 10 of 10 •
1, 2, 3, 4, 5, 6, 7, 8, 9, 10
dogs don't lie wrote:He should be left alone to deal with what he done and with no more publicity imo!
Exactly fed up with hearing about him.

Inca




Posts

: 260


Join date

: 2014-09-08



Does anyone know if it's possible to be released early from prison in South Africa on health grounds?

If so, you can see where all the play acting is leading.

Freedom

Moderator





Posts

: 17390


Join date

: 2014-08-17


Age

: 105


Location

: The nearest darkened room



Oh Freedom I hope not

_________________
Fight for Madeleine x

dogs don't lie




Posts

: 2795


Join date

: 2014-11-24


Age

: 44


Location

: Ireland



The appeal case for this is tomorrow although there is next to no news regarding it.

Hopefully they will slap another 10 years on the lying murderer.

Andrew




Posts

: 13082


Join date

: 2014-08-29




Andrew




Posts

: 13082


Join date

: 2014-08-29



http://www.dailymail.co.uk/news/article-3791161/South-African-prosecutors-launch-fresh-bid-increase-Oscar-Pistorius-jail-term-killing-Reeva-Steenkamp.html
Prosecutors today announced yet another legal fight to get a longer sentence for Blade Runner murderer Oscar Pistorius, which a source close to the athlete predicted 'could backfire and Oscar could be out sooner'.
South African state lawyers will file papers tomorrow (Friday) in their third challenge in the case of the shamed track star and his 'shockingly lenient sentence'.
A confidant of Pistorius', who reportedly attempted suicide last month, said his supporters 'welcomed' the petition against the runner's six year punishment.


In July this year, Pistorius was jailed for six years for murdering girlfriend Reeva Steenkamp
The move follows last month's failed bid by prosecutor Gerrie Nel to win leave to appeal the paralympian's sentence, which was immediately thrown out by Pistorius' trial judge, Thokozile Masipa.
He could have been jailed for life, and Judge Masipa's sentence sparked outrage on July 6 this year.
Now Mr Nel, known as 'the pitbull' for his tenacious legal style, is taking the matter directly to the Supreme Court of Appeal.
A source who knows Pistorius and his family well, told MailOnline how they were convinced that Mr Nel 'was pursuing a personal vendetta' against Pistorius, after originally failing to secure a murder conviction at his trial.
'Gerrie Nel will never let this matter rest, he has a point to prove and he is just going to go on and on until he feels he makes it,' the source said.
'He has lost his sense of perspective, he is no longer acting in a dispassionate way, it is clearly a personal vendetta against Oscar.
'But we think it could actually backfire against the state now. The Supreme Court of Appeal judges won't do anything with the sentence to make it longer, they could actually make it shorter and Oscar could be out sooner. We feel relaxed about it, justice will take its course.'

Judge Thokozile Masipa sentenced Oscar Pistorius to six years in prison for murder - a sentence which was branded 'shockingly light'
The double amputee, whose paralympics sprinting record was beaten in Rio this week, murdered Reeva Steenkamp at his home in the South African capital, on Valentine's Day 2013.
He is expected to be eligible to serve some of his sentence under house arrest at his uncle's comfortable mansion after serving just two years behind bars.
Mr Nel believes Judge Masipa 'misdirected herself in law by handing down a punishment that was less than half of South Africa's prescribed minimum 15-year sentence for murder, resulting in a punishment which 'induces a sense of shock'.

Pistorius is keeping himself busy with his studies and reading the Bible in prison, a close associate has revealed
Pistorius, who was treated for injuries to his wrists in August in what prison sources claimed was a self-harming incident in his cell, is said to be 'studying hard' as he languishes on the hospital wing at Kgosi Mampuru high security jail.
The one time sporting icon is studying business and law via correspondence with a British university.
'He is keeping himself very busy with this studies and is also taking the time to learn more about his Maker and reading the Bible,' his close contact revealed.

Pistorius' family has denied that he attempted to take his own life while in prison
'He is quite calm, he knows where he is, he has his routine, he is managing himself better and better.'
Pistorius and his family are adamant that the injuries he incurred to his arms, described by prison sources as an attempt on his own life, came after he slipped on the wet floor of his cell as he moved about on his stumps.
The latest challenge follows two earlier objections to Judge Masipa, who received death threats after clearing Pistorius of his lover's murder.

Prosecutor Gerrie Nel said the judge's starting point should have been a 15 year jail sentence for Pistorius
The state first appealed her finding that Pistorius was guilty of manslaughter, for which she sentenced him for five years in jail.
Last year, the judge's manslaughter verdict was overturned on appeal – but when Pistorius appeared again in her court for sentencing for the more serious crime, Judge Masipa increased his term by just one more year, sparking international outrage.




Andrew




Posts

: 13082


Join date

: 2014-08-29



Oscar Pistorius hospitalised for medical examination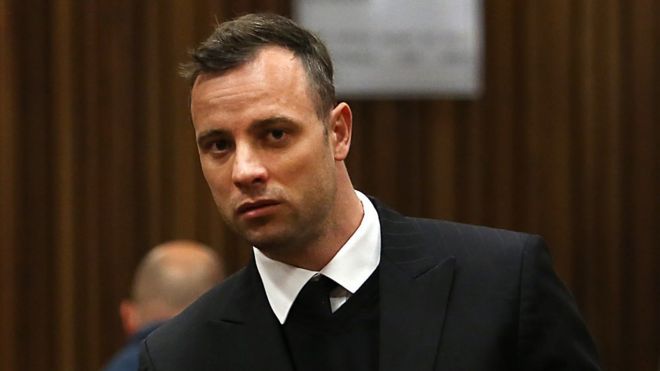 Image copyright AFP                            
Image caption  Pistorius was a global sporting icon before his conviction for the murder of his girlfriend
Jailed former Olympian Oscar Pistorius has been taken to hospital, authorities have confirmed.
Pistorius was jailed for six years in 2016 for murdering his girlfriend, Reeva Steenkamp.
An official statement confirmed that Pistorius "was this morning taken to an outside hospital establishment for medical examination".
Details of Pistorius' condition were not released, but he is expected to remain in hospital overnight.
A spokesman for South Africa's correctional services told broadcaster SABC that there was "nothing out of the ordinary" in Pistorius' hospitalisation.
The corrections service also played down earlier media reports that Pistorius had been suffering from "chest pains".
"I am not aware of [that report] or what he suffered from," a spokesman told Reuters news agency.
Pistorius has previously received hospital treatment in August 2016,
after slipping in his cell and injuring his wrists
.
The former athlete quickly rose to fame in the Paralympics, and made headlines when he became the first track and field athlete to compete in both the Paralympic and Olympic Games - racing against non-disabled athletes.
But in February 2013, he shot and killed Reeva Steenkamp at his home, alleging that he had mistaken her for an intruder.
His trial became the subject of widespread international attention, as he was initially cleared of murder in favour of a manslaughter charge - then convicted of murder on appeal in 2016
http://www.bbc.co.uk/news/world-africa-40817295
_________________
Sometimes you will never know the true value of a moment until it becomes a memory.......... Dr Seuss

candyfloss

Admin




Posts

: 12483


Join date

: 2014-08-18


Age

: 67



Prosecutors want longer sentence........... too right!!
http://news.sky.com/story/prosecutors-to-appeal-against-oscar-pistorius-six-year-sentence-11042861
Prosecutors appeal to extend Oscar Pistorius sentence
South Africa's Supreme Court of Appeal will hear arguments on 3 November that the athlete's jail term needs to be lengthened.
By Philip Whiteside, News Reporter
Prosecutors are appealing to extend the six-year murder sentence handed to Oscar Pistorius last year.
South Africa's Supreme Court of Appeal will hear the state's arguments on 3 November.
Pistorius, a Paralympic gold medallist, was jailed in 2016 for the murder of girlfriend Reeva Steenkamp.
The National Prosecuting Authority will claim the sentence was too short.
"The state, in the papers, we stipulate clearly that the sentence imposed is shockingly low," said NPA spokesman Luvuyo Mfaku.
"The presiding officer has the discretion to deviate from the minimum prescribed sentence when compelling and substantial circumstances exist.
"But... with this matter, the presiding officer exercised that discretion in a very lenient manner."
The NPA filed papers
in September 2016 in an attempt to get the Supreme Court of Appeal to increase the athlete's jail term.
The 29-year-old runner shot and killed his Ms Steenkamp at his home on Valentine's Day in 2013.
He initially served one year of a five-year prison sentence for manslaughter, but the conviction was later overturned by an appeals court.    
Pistorius was then convicted of the more serious charge of murder.
He could have been jailed for life but Judge Thokozile Masipa decided six years would be sufficient.
Pistorius has always insisted the shooting was a mistake, saying he thought an intruder had entered his home and he feared for his safety.
He fired four shots through a locked toilet door, hitting Ms Steenkamp in the head, hip and arm.
Pistorius claimed in court it was only when he battered down the door with a cricket bat that he realised who was behind it
_________________
Sometimes you will never know the true value of a moment until it becomes a memory.......... Dr Seuss

candyfloss

Admin




Posts

: 12483


Join date

: 2014-08-18


Age

: 67



After my last post above........ yeah, they got double the sentence
13 years now
_________________
Sometimes you will never know the true value of a moment until it becomes a memory.......... Dr Seuss

candyfloss

Admin




Posts

: 12483


Join date

: 2014-08-18


Age

: 67



_________________
Sometimes you will never know the true value of a moment until it becomes a memory.......... Dr Seuss

candyfloss

Admin




Posts

: 12483


Join date

: 2014-08-18


Age

: 67




Freedom

Moderator





Posts

: 17390


Join date

: 2014-08-17


Age

: 105


Location

: The nearest darkened room



Page 10 of 10 •
1, 2, 3, 4, 5, 6, 7, 8, 9, 10
---
Permissions in this forum:
You
cannot
reply to topics in this forum