Sun columnist and former editor Kelvin MacKenzie is suspended following complaint to police over 'racist' article comparing a mixed-race footballer to an ape and saying the only rich Scousers are drug dealers on Hillsborough anniversary
[*]
Former Sun editor Kelvin MacKenzie has worked on and off at paper for 36 years
[*]
In column he said of Ross Barkley: 'I get a similar feeling when seeing a gorilla'
[*]
He also said: 'The only men with similar pay packets [to him] are drug dealers'
[*]
Mayor of Liverpool Joe Anderson reported the article to police citing racism
[*]
MacKenzie tonight said he did not know about Barkley's family background
Sun columnist Kelvin MacKenzie has been suspended from the paper after comparing mixed-race Everton footballer Ross Barkley to an ape and saying the only rich Scousers are drug dealers.
Publisher News UK said the former editor expressed 'wrong' and 'unfunny' views about the people of Liverpool in his column published today.
The Mayor of Liverpool reported the article to police, saying MacKenzie was 'racist' towards Barkley who has a Nigerian grandfather.
But MacKenzie, 70, tonight hit back saying he did not know about Barkley's family background and that it was 'beyond parody' for critics to describe his article as 'racist'.  
Commenting on the midfielder who was punched in a Liverpool city centre bar in the early hours of Monday, MacKenzie wrote: 'Perhaps unfairly, I have always judged Ross Barkley as one of our dimmest footballers.
'There is something about the lack of reflection in his eyes which makes me certain not only are the lights not on, there is definitely nobody at home.
'I get a similar feeling when seeing a gorilla at the zoo. The physique is magnificent but it's the eyes that tell the story.
'So it came as no surprise to me that the Everton star copped a nasty right-hander in a nightclub for allegedly eyeing up an attractive young lady who, as they say, was 'spoken for'.
'The reality is that at £60,000 a week and being both thick and single, he is an attractive catch in the Liverpool area, where the only men with similar pay packets are drug dealers and therefore not at nightclubs, as they are often guests of Her Majesty.'
The article, which was published a day before the anniversary of the Hillsborough disaster which killed 96 Liverpool fans, caused outrage in Liverpool and among outspoken stars such as Joey Barton and Gary Lineker. 
Haven't copied the rest more on link...
Read more:
http://www.dailymail.co.uk/news/article-4412846/Sun-columnist-Kelvin-MacKenzie-suspended.html
From twitter...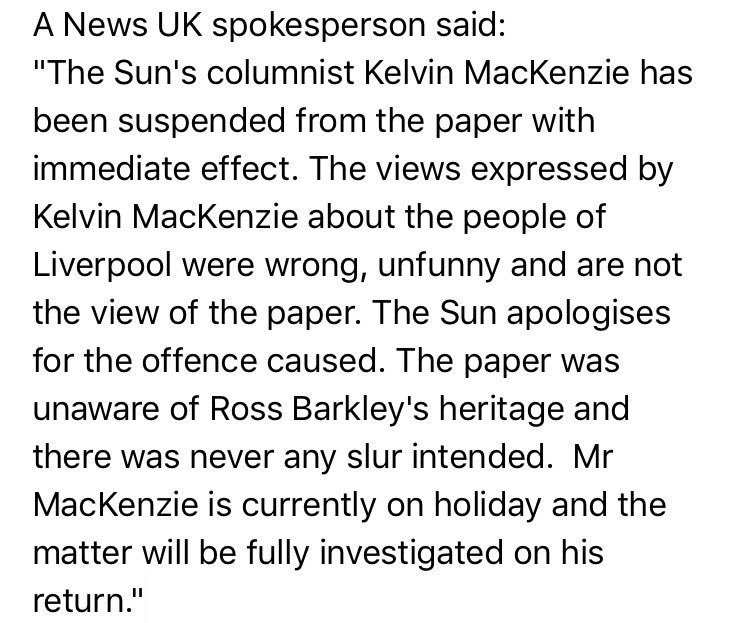 _________________

Sometimes you will never know the true value of a moment until it becomes a memory.......... Dr Seuss

candyfloss

Admin




Posts

: 11785


Join date

: 2014-08-18


Age

: 65



Works for the scum what more is there to know.Let's not forget their headlines on Hillsborough.

Heisenburg




Posts

: 1572


Join date

: 2016-01-11



I can understand why anything from The Sun goes down like a lead balloon in Liverpool.

However, this does seem a bit OTT to me. I have never heard of the footballer but, having now seen a photo, I would have had no inkling that he is mixed race and, if KM was unaware of that as he says, this was just a joke, nothing racist about it.

Dear old Lorraine Kelly is of course allowed to make offensive remarks about anyone who doesn't believe the McCanns - no problem there!

Freedom

Moderator





Posts

: 15870


Join date

: 2014-08-17


Age

: 103


Location

: The nearest darkened room



I don`t believe there was anything racist in his words either - he didn`t know he was half black as he is very `white` looking.  I think he used the word gorilla just because his general appearance is rather frightening.

Edited - I thought I`d edited it before but obviously didn`t work. I reconsidered and thought I had been rude.
Last edited by Mimi on Sat Apr 15, 2017 11:19 am; edited 1 time in total

_________________
The constant assertion of belief is an indication of fear.
Jiddu Krishnamurti


Mimi




Posts

: 3524


Join date

: 2014-09-01



Only one quarter black - a Nigerian grandfather.

P.S. Mimi, sorry I've caused confusion. You made two posts which were more or less the same. I deleted the one with less information and kept the other one; I now know that you wanted the shorter one to remain.

Freedom

Moderator





Posts

: 15870


Join date

: 2014-08-17


Age

: 103


Location

: The nearest darkened room




Freedom

Moderator





Posts

: 15870


Join date

: 2014-08-17


Age

: 103


Location

: The nearest darkened room




---
Permissions in this forum:
You
cannot
reply to topics in this forum