Page 8 of 8 •

1, 2, 3, 4, 5, 6, 7, 8

:)n


Mo wrote:If IIRC Tony said he would leave it to the experts because he didn't know. LIzzy Hideho was the person who phoned Wayback and told them they had the wrong date - not a good move on Lizzy Hideho's part.

I found this a really good read on the matter although Dr Roberts says himself that he's not an expert but if read a couple of times it does make sense.

http://onlyinamericablogging.blogspot.com/2015/06/a-tale-of-two-files-by-dr-martin.html
Agree
_________________
Success is not final, failure is not fatal: it is the courage to continue that counts
Winston Churchill 

Bampots




Posts

: 2301


Join date

: 2014-09-07


Age

: 57



Tangled Web wrote:

chirpyinsect wrote:Very interesting Niklas. It certainly chimes with my theory that the whole thing was a pre-planned hoax. I believe that CEOP did have details of her disappearance ready to go on April 30th as per the Wayback Machine.

The Wayback machine has been disproved though by some well known names who research and post about the case.
According to the Office Manager at "WBM/Archive" was nothing wrong in the first place, "WBM have been used in many legal proceedings......", but when the "news" started to get attention online they backed down and there was some kind of timestamp error.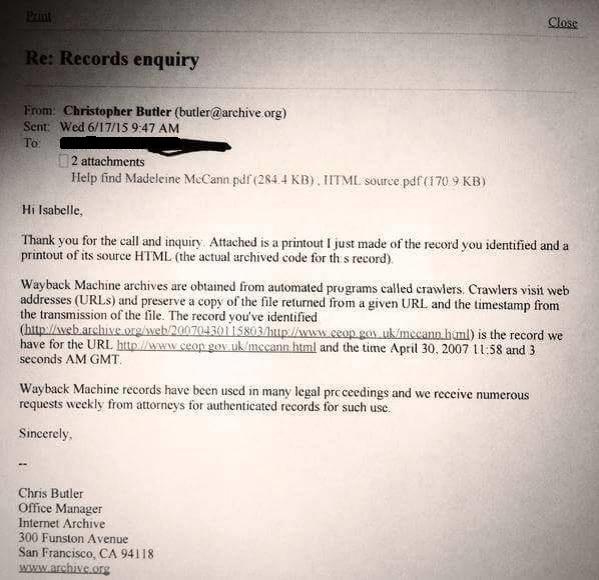 _________________
"This story did not begin in the Ocean Club, but in London where the official truth was conspired and established"

niklasericson




Posts

: 343


Join date

: 2015-07-05


Location

: Stockholm, Sweden



I believe the Wayback Machine. It is suggestive that the 'abduction' was perhaps supposed to have happened on Monday (the McCanns alleged trip to Sagres? The Nuno Lourenco 'sighting'?) But something went wrong and/or the plan was sabotaged leading to a (staged/faked) abduction later on that week.

I do find it significant that Kate, in her book, records nothing about events on Monday during the day, claiming that they had already developed a routine. Yet Monday was only the second full day of the holiday and surely both children and adults were still settling into the holiday at this stage? One would imagine that the children, and in particular the twins who were only two and still at the clingy stage, would not yet have settled into a routine? Yet, all Kate can write about events of Monday is that she made her first foray to Baptista with Jane, to stock up on a few essentials as the next day was a public holiday. I find it weird that Kate writes about a visit to a supermarket (a mundane event surely, or perhaps not?) but nothing else on that day.

I have long been curious about what these 'essentials' were? I wonder if police were able to scrutinize till receipts from Baptista (this could be relevant in the context of a quite remarkable lack of DNA in apartment 5A - indicative of a very thorough 'deep cleanse' perhaps)?


poster




Posts

: 1987


Join date

: 2015-06-23



Page 8 of 8 •

1, 2, 3, 4, 5, 6, 7, 8


Similar topics
---
Permissions in this forum:
You
cannot
reply to topics in this forum